**NEW** Comedy Hypnotist **NEW**

Cocktail Parties | Banquet/Cabaret Shows | Meetings
Tradeshows | Weddings | Client List
Michael placed 15 swords through the head of Radio Disney's (Cleveland) Jag.
(IX Center)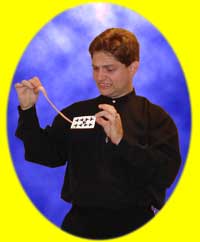 Michael Oddo's magical stage presence and inspirational enthusiasm have escalated him into one of the most sought-after magical entertainers in the nation. Performing for both adults and children, he combines delightful comedy and a mastery of magic with a big heart that will excite and amaze your audience.
Michael is truly the entertainment solution for all of your public, private, and corporate events. With over a decade of dedicated experience, Michael can provide pure entertainment at banquets, attract qualified leads at trade shows and motivate your staff and clients. His award-winning style is enhanced by a keen sense of creativity that gives him the ability to tailor a performance to help you meet virtually any objective and accommodate any size group.
Your audience will be dazzled and delighted by The Magic of Michael Oddo, as he performs unbelievable acts of astonishment right before their very eyes!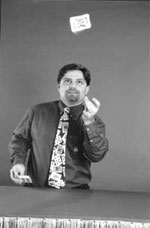 Strolling, up-close and personal magic during a cocktail reception is a great warm-up to any event. As he moves from one small group to another, Michael captivates guests with his amazing sleight of hand and heightens their sense of wonder. Your audience will be inches away from unbelievable feats of magic. For larger groups he can recruit his team of world-class magicians to entertain with him.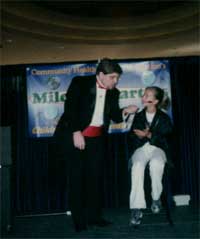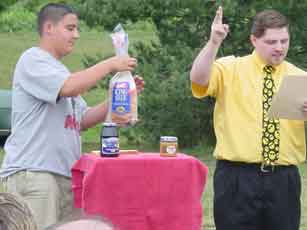 An Evening of Magic, Michael's stage show, will delight your audience with laughter, spectacular magic and illusions. Use Michael's stage show as a kick-off to your fundraiser, convention, after-dinner entertainment or throughout your awards presentation. With his trademark unique delivery and lively antics, he pulls off an endless stream of impossible and amazing feats. Add Michael's uplifting approach to audience participation and your group's evening is set for a magical success.
Designed for theaters, auditoriums & large banquet halls.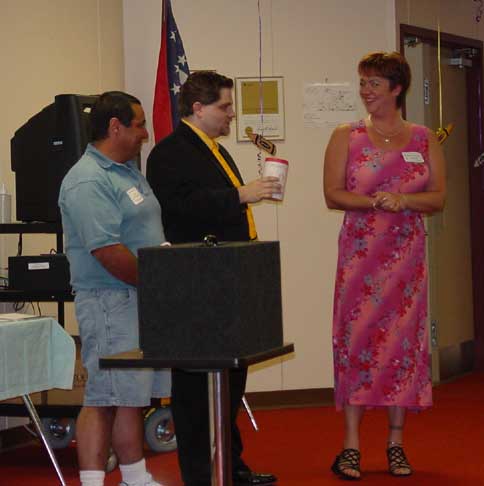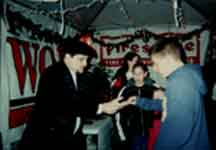 Many companies utilize Michael's unique talents throughout their general sessions and business meetings. Small doses of magic performed between speakers and executive presentations add life and continuity to the program. He will keep your audience refreshed and their attention focused on the message of your meeting. Michael's special illusions can incorporate your executives as the stars of the show. Make your company president or CEO appear from a puff of smoke, introduce a new incentive program, or teach your executives magic routines to enhance their message.
Attracting qualified leads to your trade show exhibit requires more than catchy graphics or elaborate construction...it takes The Magic of Michael Oddo! He will perform a high-energy brand of magic and illusion, and your competition will not know what you have up your sleeve!

Whether you need to introduce a new
product, generate more leads, gain corporate exposure, enhance your image or dramatically increase booth traffic, Michael will use a custom script to maximize your marketing message. Working closely with you in advance, he develops a thorough strategy to help your sales staff qualify leads and exceed your trade show goals. Michael's talent and experience will bring your trade show marketing to a new level of excellence.
Have Michael Oddo perform strolling magic as your guests enter the banquet facility for cocktail hour. They will enjoy the art of magic, close-up & right at thier table as a professional magiciangreets your guests & provide quality entertainment just before the dinner is served! This is an excellant way to get the party started, by adding a little magic to your reception!
Michael Will Make Your Next Event A Magical Success!