About Michael Oddo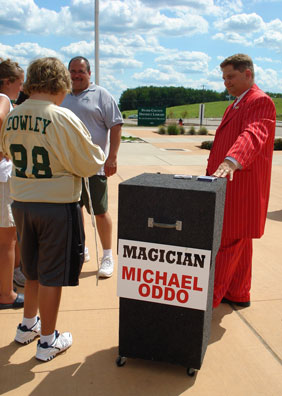 Some call him Magic Mike or simply The Magician! But for Michael Oddo, Magic has been second nature from as early as he can remember. His first chance to share his talent with the world was at age 12. He performed his first magic show for a child's birthday party.
As Michael matured so did his magic. Still making magical appearances at birthday parties, he added schools, theatres, trade shows, and even outdoor performances to his long list of captive audiences.
At age 16, Michael Oddo took his magic a step further by being the first to create an ongoing show as a Table Hopping Magician at the Spaghetti Warehouse in Akron Ohio. Michael became known for The Spaghetti Warehouse's entertaining balloon animal the Meatball-Eating Dog.
By age 18 Michael decided to temporarily leave behind the
Meatball-Eating Dog for a few months to become The Master of Ceremonies of a traveling sideshow called the Palace of Illusions. Michael learned the art of eating-fire, lying on a bed of nails, The human block head and other Sideshow stunts. When returning home Michael returned to the Spaghetti Warehouse where he continued to entertaining customers with his magic and Famous Meatball-Eating Dog.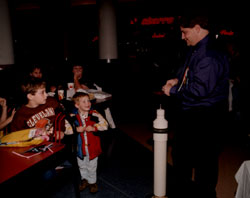 On December 8, 1995 Michael was the featured act in a Vaudeville Show at the Cleveland Public Theater, which also led to a wonderful press release in the Cleveland Plain Dealer and a sellout crowd. Michael performed several sideshow type effects mystifying his audience and marking his status in entertainment circles A must see show, Great entertainment for the whole family.
During August of 1996 Michael put together a Benefit Show for the Wrestlers of Cuyahoga Falls High School. Facing this major challenge, Michael needed to customize a show to attract the students as well as adults. With the show date set for Nov. 22, 1996 and being less than one month away. Michael created the theme Michael Oddo's Illusion & Mystery Show combining Magic, humor and Audience Participation he created a magical act called The Case of the Missing Toilet Starring the Schools Head Principal. The show captured the hearts and laughter of the entire audience.
Parents, Teachers and Students alike raved the show calling it both amazing and funny. The show not only
raised the money needed but exceeded their original goals.
In 1998, Michael Oddo visited the Magic Castle, in Hollywood, California. This visit sparked a fire in Michael's life. Some Magicians feel when they reach the Magic Castle that they have arrived at the top. For Michael, it gave him more insight into his world of magic, provoking him to create an even better more entertaining show.
From 1997 to present, Michael has continued to entertain audiences of all sizes. Michael is constantly changing his show to be able to maximize the entertainment value for all of his audiences young and old alike.
As you can see Michael Oddo was given a gift of magic and his ability to entertain audiences of all ages. Now he would like to share it with you and your guests. Bringing the Laughter and wonderment into your lives, please contact Michael Oddo to book an event and share in this wonderful mixture of art, magic, humor and all out magical experience with:

THE MAGIC OF MICHAEL ODDO
Office: 330-701-4647